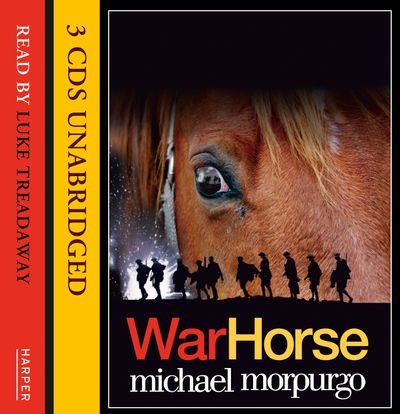 War Horse: Unabridged edition
By Michael Morpurgo, Read by Luke Treadaway
Michael Morpurgo's classic tale, capturing the power of the human spirit.
First published back in 1982, 'War Horse' has taken the world by storm. The book was adapted to the stage and was performed at the National Theatre and on Broadway. This full and unabridged edition is beautifully performed by the National Theatre's first Albert, OIivier-award-winner Luke Treadaway.
At the outbreak of World War 1, Joey, young Albert's beloved horse, is sold to the cavalry and shipped to France.
He's soon caught up in enemy fire, and fate takes him on an extraordinary odyssey, serving on both sides before finding himself alone in no man's land. But Albert cannot forget Joey and, still not old enough to enlist, he embarks on a treacherous mission to the trenches to find him and bring him home.
"Praise for Michael Morpurgo:'Michael Morpurgo writes brilliantly about war and animals, conveying the big emotions without preaching." - Guardian
"'Champagne quality over a wide range of subjects." - Daily Telegraph
"'There are few children's writers as compelling as Michael Morpurgo." - Daily Express
"'Morpurgo, as always, is subtle and skillful, and incorporates social and moral issues into his writing without being self-righteous or detracting from the quality of the narrative" - Elizabeth Reilly, British Council
"'The former children's laureate has the happy knack of speaking to both child and adult readers." - Guardian