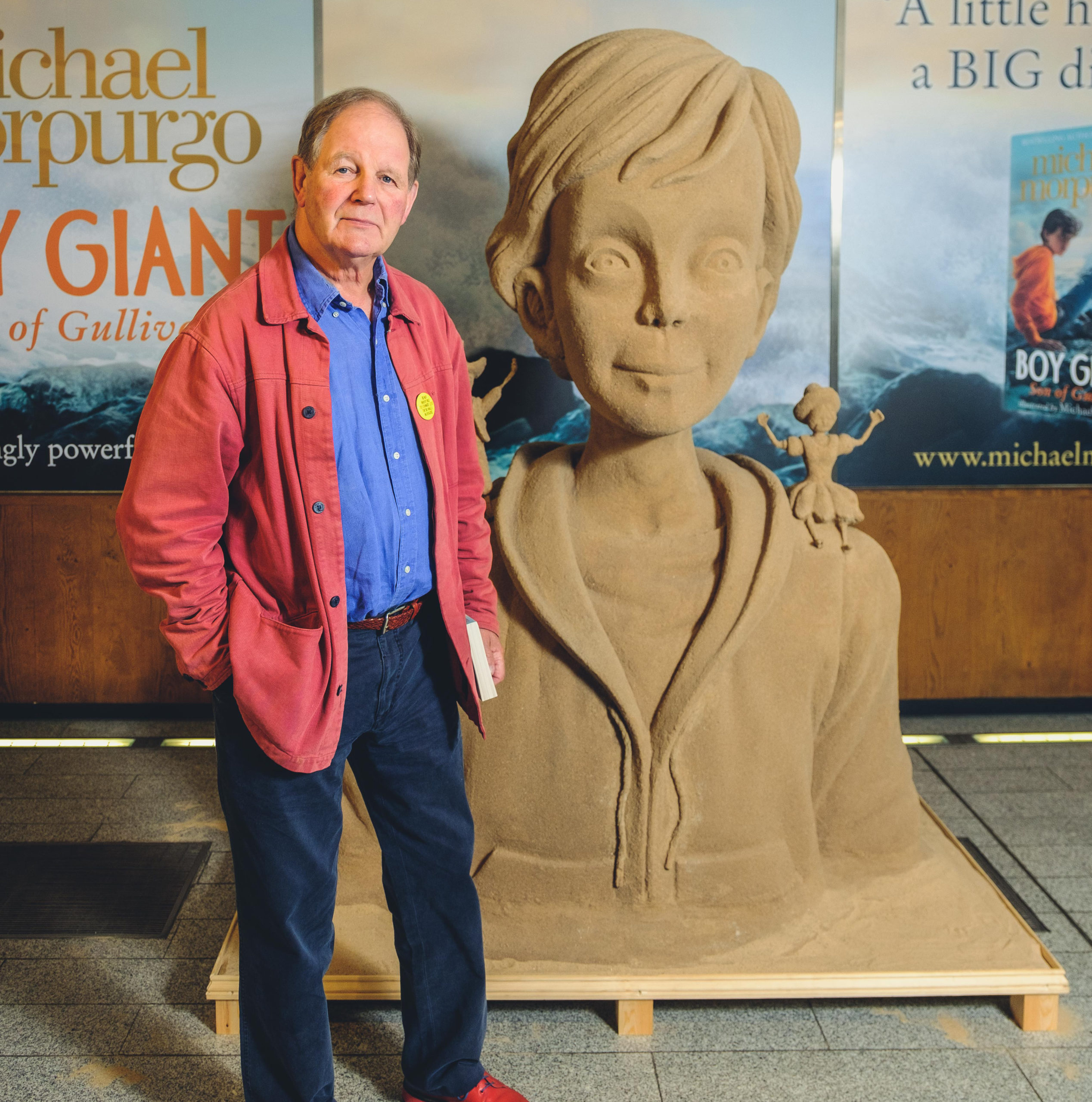 Much ado about... me
I was born a really long time ago. 5th October 1943. In St Alban's in Hertfordshire. My mother was there too, strangely enough, but my father was away at the war, in Baghdad. I had one older brother, Pieter. We both were evacuated to Northumberland when we were little, away from the bombs. After the war it was all change at home, not that I remember much of it. My mother wanted to be with a man she had met while my father was away in the army. He was called Jack Morpurgo. So my father came home to find there was no place for him. There was a divorce. Jack Morpurgo married my mother, and so became our stepfather. We lived in London then. We went to primary school at St Matthias in the Warwick Road, then were sent off to boarding school in Sussex – the Abbey, Ashurst Wood. I was there for six years, hated being away from home, loved rugby and singing. Then I went off to a school in Canterbury, The King's School, where I got more used to being away from home and still loved rugby and singing. We wore strange uniforms, wing collars, black jackets, boaters. And when I was older I got to wear a scarlet gown which made me feel very important. Read more
A letter from Michael
Hello from me,
Strange times we are all living through. You'll be isolating at home, schools closed, unable to go out, see friends, do what you want to do, doing lessons digitally, homeschooling. A different life. For a while. Not easy, but it's got to be done this way, to help get this thing over and done with. And it will be. It will.

Reading stories might help. If you get into a book, you can pass the time without even noticing. Books are a fantastic medicine for boredom. And you can escape! You can travel the world, travel in time, live the lives of others, be who you want to be, go where you want to go. Try reading a book a week, a different author each week.

And writing stories or poems too, can help you to deal with this new life you're living. Tell it down onto the page, the screen. Maybe write a daily journal of your life as you live through this, the highs, the lows, the sadness, the fun moments, the thoughts of those you're missing, your feelings about those around you, about all you long for. Or be someone else and write an imaginary diary. Or write a poem about it, or a story around it. Writing will help you understand things better, help you get through, and out the other side.

I'm telling you this, because that's what I'm doing. Reading, writing, dreaming stories in my head. Like your world, mine has changed hugely. All the plays and concerts, involving my stories, have been cancelled, War Horse, The Mozart Question, I believe in Unicorns, Private Peaceful, Lucky Button. The film of Waiting for Anya was in cinemas only for few days before all cinemas had to close. And of course this means that all those who have been working on them are out of a job. And that is hard, so hard.

In a way we writers are lucky. We work at home anyway. It's what we do. I'm doing a retelling of the Tales of Shakespeare. And loving it. It won't be out for a year or so. It's got to be finished, illustrated and so on, and that takes time. But I have just finished my first book of poems, called A Carnival of Animals, inspired by the music of the composer, Saint Saens. You tube it. It's fantastic music, and I've written poems to go with it. Hope it'll be out on CD by Christmas.

And I've three books coming out around then too. 'The Puffin Keeper', 'Owl or Pussycat', and the picture book of 'War Horse'. I'll tell you a lot more about those in my next letter.

Listen. Look after yourselves, and those around you, keep in touch with those you love who can't see you. Wash hands! And sing! Sing in the bath, the shower, sing out of the window, sing on Skype, on you tube. Laugh and the world laughs with you. Sing and the world sings with you.

Keep singing, keep well, keep happy, keep strong.

Much love, 

Michael Morpurgo
Farms for City Children
Michael and his wife Clare founded Farms for City Children in 1976 at Nethercott Farm, deep in Devon river country, and Michael has called the project his 'greatest story'. The charity now operates three working farms: Treginnis Isaf on the Pembrokeshire coast opened twenty years ago and Wick Court in Gloucestershire opened in 1997. They aim to expand the horizons of children from towns and cities all over the country by offering them a week in the countryside living together on one of their farms. The charity has inspired many of Michael's books, including one special visit that planted the seed that would later become War Horse. Over the years the formula has changed very little. Simply, children are involved in everything necessary to keep the farms going. They learn hands-on where their food comes from, the importance of caring for animals and the land, and the value of working co-operatively as a team. The rewards are, unusually, non-material and self-generated: children discover an active enjoyment in life and a sense of achievement, the effects of which remain with them long after they have waved the farms goodbye. Farms for City Children is a UK registered charity. To find out more about how you can help the children to get the most out of their experience please visit farmsforcitychildren.org. Visit Farms for City Children
Contact Michael...
Please contact Michael Morpurgo via his social media channels. However, for other enquiries, please contact the following people:
Publishing agent David Higham Associates contact: Veroniquebaxter@davidhigham.co.uk
TV, film, theatre and radio agents – Berlin Associates juliaw@berlinassociates.com
or call 020 76325282