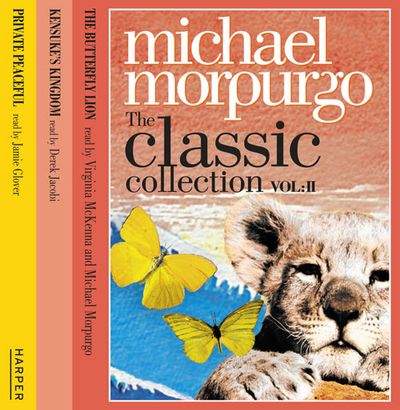 The Classic Collection Volume 2: Unabridged edition
By Michael Morpurgo, Read by Michael Morpurgo
Three unforgettable novels have been turned into fantastic audiobooks written by the award-winning former Children's Laureate, Michael Morpurgo. Actors include Derek Jacobi, Jamie Glover and Michael Morpurgo.
Kensuke's Kingdom
When Michael is washed up on an island in the Pacific after falling from his parents' yacht, he struggles to survive on his own. But he soon realises there is someone close by, someone who is watching over him and helping him to stay alive. Following a close-run battle between life and death, the mysterious stranger – Kensuke – allows Michael into his world and they become friends, teaching and learning from each other, until the day of separation becomes inevitable.
Private Peaceful
Told in the voice of a young soldier, the story follows 24 hours in his life at the front during WW1, and captures his memories as he looks back over his life. Full of stunningly researched detail and engrossing atmosphere, the book leads to a dramatic and moving conclusion.
Both a love story and a deeply moving account of the horrors of the First World War, this book will reach everyone from 9 to 90.
Butterfly Lion
Bertie rescues an orphaned white lion cub from the African veld. They are inseparable until Bertie is sent to boarding school far away in England and the lion is sold to a circus. Bertie swears that one day they will see one another again, but it is the butterfly lion which ensures that their friendship will never be forgotten.