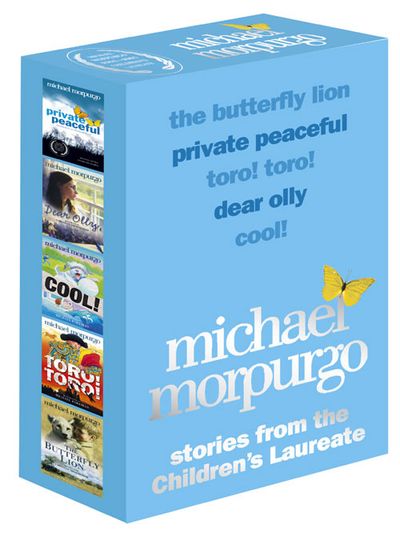 Michael Morpurgo's Collection: Stories from the Children's Laureate
By Michael Morpurgo
Five of award-winning author Michael Morpurgo's best-loved stories, brought together in this beautiful gift collection. The perfect present for any child. A mini-library from a master storyteller.
THE BUTTERFLY LION
Bertie resuces an orphaned white lion cub from the African veld. They are inseparable until Bertie is sent to boarding school far away in England and the lion is sold to a circus berties swears that one day they will see one another again…
COOL!
Robbie lies in a coma. He can hear, but he can't tell his family that he loves them, that he's going to be OK. Everyone comes to visit Robbie – even the famous Chelsea footballer, Zola. Will they ever be able to bring him back?
DEAR OLLY
As Olly waits for her brother Matt's letters, she watches the swallows preparing to leave for the winter. Matt sees the children in the African orphanage and knows he made the right decision to come, but he could never have dreamt what would happen to him there…
TORO! TORO!
Antonito lives an idyllic life on his parents' bull farm in Spain. But the idyll is shattered when he realises that his beloved bull calf, Paco, is destined for the bloody struggle of the bull ring. What can he do…?
PRIVATE PEACEFUL
Young Thomas Peaceful looks back over his childhood memories from the battlefields of the First World War. But the clock is ticking, and every moment Tommo spends remembering, means another moment closer to something that will change his life for ever.
"For PRIVATE PEACEFUL: '…a deeply moving portrayal of camaraderie and courage, innocence and brutality" - Telegraph
"For COOL: 'Absorbing and satisfying … with a real story at its heart" - Guardian
"For DEAR OLLY: 'My daughter got to Michael Morpurgo's Dear Olly before me. 'This is excellent," - she informed me gravely. And it is… We both cried buckets.' The Times
"For TORO! TORO!: 'Once again, Morpurgo demonstrates his talent for stories of absolute clarity about big events" - Sunday Times
"For THE BUTTERFLY LION: '…will touch all hearts - both young and old" - Virginia McKenna, Born Free Foundation