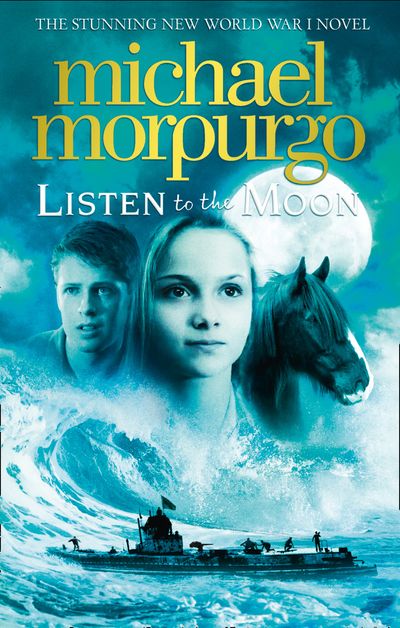 Listen to the Moon
By Michael Morpurgo
The stunning novel set during World War One from Michael Morpurgo, the nation's favourite storyteller and multi-million copy bestseller.
May, 1915.
Alfie and his fisherman father find a girl on an uninhabited island in the Scillies – injured, thirsty, lost… and with absolutely no memory of who she is, or how she came to be there. She can say only one word: Lucy.
Where has she come from? Is she a mermaid, the victim of a German U-boat, or even – as some islanders suggest – a German spy…?
Only one thing is for sure: she loves music and moonlight, and it is when she listens to the gramophone that the glimmers of the girl she once was begin to appear.
WW1 is raging, suspicion and fear are growing, and Alfie and Lucy are ever more under threat. But as we begin to see the story of Merry, a girl boarding a great ship for a perilous journey across the ocean, another melody enters the great symphony – and the music begins to resolve…
A beautiful tour de force of family, love, war and forgiveness, this is a major new novel from the author of PRIVATE PEACEFUL – in which what was once lost may sometimes be found, washed up again on the shore…
"'Please invite this wonderful story in, you won't regret it. History is rarely more movingly alive." - Morris Gleitzman
"'A belter of a book that rivals War Horse in its cinematic storytelling" - Daily Telegraph
"'Michael Morpurgo [has an] exceptional ability to draw you in with a mixture of historical fact and emotional pull." - Charlotte Norman, Waterstones Bookseller
"Praise for Michael Morpurgo:'Michael Morpurgo writes brilliantly about war and animals, conveying the big emotions without preaching." - Guardian
"'Champagne quality over a wide range of subjects." - Daily Telegraph
"'There are few children's writers as compelling as Michael Morpurgo." - Daily Express
"'Morpurgo, as always, is subtle and skilful, and incorporates social and moral issues into his writing without being self-righteous or detracting from the quality of the narrative" - Elizabeth Reilly, British Council
"'The former children's laureate has the happy knack of speaking to both child and adult readers." - Guardian