On 3rd April, Michael and Clare Morpurgo visited the stage production of War Horse in Stoke on Trent.
It was a very special evening at the Regent Theatre. Before the performance took place, at circle time, Michael went backstage to see the cast and take pictures. Then, after the play, Michael spoke to the audience about his charity, Farms for City Children. One hundred head teachers and literacy coordinators from across the local area were listening! They had been invited from thirty-five different schools in Stoke-on-Trent to come and hear Michael speak.
Thank you to everyone who attended War Horse in Stoke-on-Trent!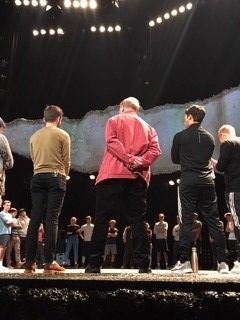 Praise for the War Horse stage production:
"An entertainment phenomenon… powerfully moving and imaginative." Daily Telegraph
"An astonishing piece of theatre." Time Out