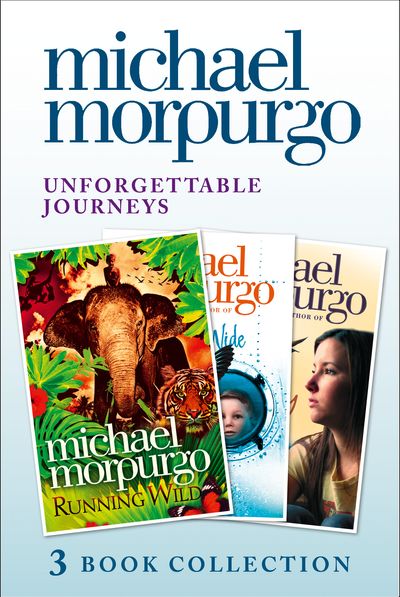 Unforgettable Journeys: Alone on a Wide, Wide Sea, Running Wild and Dear Olly
By Michael Morpurgo
Three unforgettable life-affirming journeys from the nation's favourite storyteller to capture your heart.
'Alone on a Wide Wide Sea':
How far would you go to find yourself? When orphaned Arthur Hobhouse is shipped to Australia after WWII he loses his sister, his country and everything he knows. Now, at the end of his life, Arthur has built a special boat for his daughter Allie, whose love of the sea is as strong and as vital as her father's. Now Allie has a boat that will take her to England solo, across the world's roughest seas, in search of her father's long-lost sister… Will the threads of Arthur's life finally come together?
'Running Wild':
An epic and heart-rending jungle adventure. For Will and his mother, going to Indonesia isn't just a holiday. It's an escape. But when Will is riding an elephant called Oona moments before the tsunami comes crashing in, it's up to Oona to get them away as fast as possible. But she doesn't stop. With nothing on his back but a shirt and nothing to sustain him but a bottle of water, Will must learn to survive deep in the jungle. Luckily, though, he's not completely alone… He's got Oona.
'Dear Olly':
A moving story of a brother, a sister and… a swallow and how all are in some way victims of the horrors of landmines. Three separate stories are woven into one powerful and moving novel whose central theme exposes the horrors of war and of landmines, but also the endurance of the human spirit.
Praise for Alone On A Wide Wide Sea:'Lyrical and moving, it is one of the former Children's Laureate's best books for years.' Amanda Craig, The Times -
'His best book in years… I was completely hooked.' Kate Kellaway, The Observer Review -
"Praise for Running Wild:'One of those novels that you know from the start is going to break your heart." - The Times
"'Michael Morpurgo's 'Running Wild" - will surely rank alongside his best-loved books.' Guardian