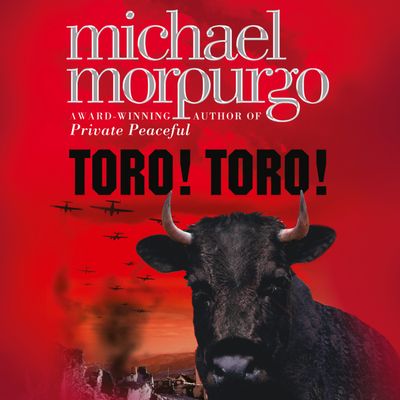 Toro! Toro!: Unabridged edition
By Michael Morpurgo, Read by Christopher Barlow
Best-selling author Michael Morpurgo turns his storytelling skills to the drama and tragedy of the Spanish Civil War, read by Christopher Barlow.
TORO! TORO! is the story of a young boy growing up in Andalucia, Spain, on a farm rearing bulls for the bull ring. Antonito hand-rears a little black calf, but the boy doesn't yet understand the fate of the black bulls – the corrida and death. Later, learning of the horrors of the bull fight, he frees Paco, and rides with him into the hills. There they witness the beginning of the Spanish Civil War and Antonito is left alone – his family and the farm are destroyed by bombs, and Paco has run off, wild with fright. He decides to stay in the hills, where he joins the Resistance fighters. Around the campfire, Antonito hears tales of the wonderful black bull, who becomes a symbol of freedom for them all. Could this really be Paco? One night, Antonito falls asleep and dreams of Paco. In the morning, he wakes to see hoof prints on the ground beside him…
A delightful story, full of nostalgia and drama in the author's own inimitable style. Illustrated by Michael Foreman.
"'A tale about another country and another time that resonates with the here and now… Once again, Morpurgo demonstrates his talent for stories of absolute clarity about big events" - Sunday Times
"'A poignant tale, simply told, about the horror of the Spanish Civil War and the noble cruelty of bullfighting." - Sunday Telegraph
"'In Toro! Toro! Michael Morpurgo unpicks the problem of taking sides, of how enemies can be good, of guilty secrets kept for years… A compact, horrifying and compelling story" - The Times
"'A beautifully, directly and convincingly told story: typical Morpurgo. Michael Foreman's illustrations are exactly right and the whole is a very fine, thoroughly recommended, production." - School Librarian