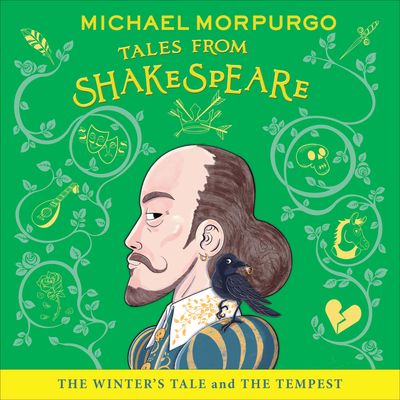 Michael Morpurgo's Tales from Shakespeare - The Winter's Tale and The Tempest
(Michael Morpurgo's Tales from Shakespeare)

: Unabridged edition

By Michael Morpurgo, Original author William Shakespeare, Read by Michael Morpurgo, Amanda Hadingue, Mogali Masuku, William Grint and Zoe Lambert
Sir Michael Morpurgo retells two of Shakespeare's best-loved plays, The Winter's Tale and The Tempest, in this stunning audio collection in association with the RSC, featuring readings by members of the Royal Shakespeare Company and Michael himself.
Translating these iconic plays into thrilling prose, the nation's favourite storyteller preserves all the imaginative genius and spark of the originals, while bringing a contemporary and vibrant voice to their retelling. The stories are revealed in a fresh, exciting and entertaining way, providing both an entry point for child readers and a fascinating dialogue with the original texts that will intrigue any Shakespeare scholar.
Each tale, directed by Hal Chambers and Aaron Parsons, is introduced by Michael and includes incidental music composed by Phil James.
Look out for the other instalments of Romeo and Juliet and A Midsummer Night's Dream, Macbeth and Hamlet, King Lear and Henry V and Twelfth Night and Taming of the Shrew.