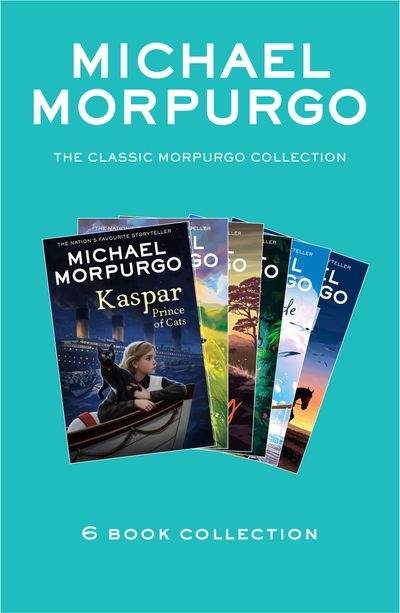 The Classic Morpurgo Collection
(six novels)

: Kaspar; Born to Run; The Butterfly Lion; Running Wild; Alone on a Wide, Wide Sea; Farm Boy

By Michael Morpurgo
Six best-loved novels by award-winning author of 'War Horse', brought together in this ebook collection.
A perfect introduction to Michael Morpurgo's enthralling storytelling for new readers and a classic collection for fans.
'Kaspar':
Kaspar the cat first came to the Savoy Hotel in a basket – Johnny Trott knows, because he was the one who carried him in. Johnny was a bellboy, you see, and he carried all of Countess Kandinsky's things to her room, including this very special cat!
'Born to Run':
When Patrick saves a litter of greyhound puppies from the canal, he convinces his parents to let him keep one. Patrick names his puppy Best Mate, and that's what he becomes…
Until one day Best Mate is kidnapped by a greyhound trainer. The trainer's step-daughter loves the greyhound and renames him Bright Eyes. But what will happen when he can't run any more?
'The Butterfly Lion':
When Bertie is a little boy, he rescues an orphaned white lion cub from the African veld. They are inseparable until Bertie is sent to boarding school far away in England and the lion is sold to a circus.
Bertie swears that one day they will see one another again, but it is the butterfly lion which ensures that their friendship will never be forgotten.
'Alone on a wide, wide sea':
When six-year-old orphan Arthur Hobhouse was shipped to Australia after WWII he lost his sister, his country and everything he knew.
Now he has built a special boat for his daughter Allie – a yacht designed to carry her to England, in search of his long-lost sister…
'Running Wild':
For Will and his mother, going to Indonesia isn't just a holiday. It's an escape, a new start, a chance to put things behind them.
Until Oona, the elephant Will is riding on the beach, begins acting strangely, shying away from the sea. That's when the tsunami comes crashing in, and Oona begins to run.
But when the tsunami is gone, Oona just keeps on running.
'Farm Boy':
The fascinating sequel to 'War Horse'. Set on a farm in rural Devon, this is the story of Grandpa's memories. Family secrets come to light as Michael's wonderful writing depicts the moving relationship between grandfather and grandson.
"Praise for 'Kaspar':'A cracking narrative" - Observer
"Praise for 'Born to Run':'Pitch perfect… even this hardened book reviewer kept having to wipe away the tears" - Daily Mail
"Praise for 'The Butterfly Lion':'Will touch all hearts - both young and old" - Virginia McKenna, Born Free Foundation