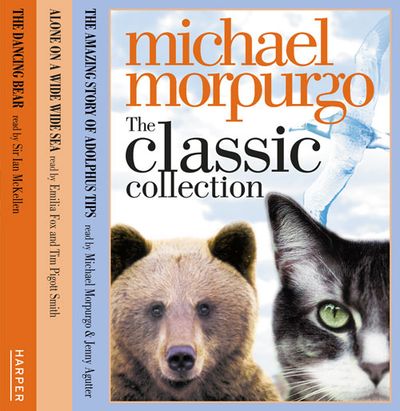 The Classic Collection Volume 1: Unabridged edition
By Michael Morpurgo, Read by Tim Pigott-Smith, Jenny Agutter, Emilia Fox, Michael Morpurgo and Sir Ian McKellen
Three unforgettable novels have been turned into fantastic audiobooks written by the award-winning former Children's Laureate, Michael Morpurgo. Actors reading include Sir Ian MacKellen, Emilia Fox, Jenny Agutter, Tim Pigott-Smith and the author himself.
Adolphus Tips
A heartwarming tale of courage and warmth, set against the backdrop of the second world war, about a cat who survives against the odds.
It's 1943, and Lily Tregenze lives on a farm, in the idyllic seaside village of Slapton. Apart from her father being away, and the 'townie' evacuees at school, her life is scarcely touched by the war. Until one day, Lily and her family, along with 3000 other villagers, are told to move out of their homes – lock, stock and barrel.
Dancing Bear
A gentle and deeply moving story of a young girl and her bear, told with great charm by a master storyteller
High in the mountains, in a tiny village, an abandoned bear cub is adopted by a lonely orphan child. Soon they are inseparable, beloved by the whole village – safe, until the arrival of a glamorous film crew who need a dancing bear…
Alone on a Wide, Wide Sea…
There were dozens of us on the ship, all up on deck for the leaving of Liverpool, gulls wheeling and crying over our heads, calling good-bye…
That is all I remember of England.
When six-year-old orphan Arthur Hobhouse is shipped to Australia after WWII he loses his sister, his country and everything he knows. Overcoming enormous hardships with fellow orphan Marty, Arthur is finally saved by the extraordinary people he meets and by his talent for boat-design and sailing. Now he has built a special boat for his daughter Allie – a solo yacht designed to carry her to England in search of his long-lost sister. Will the threads of Arthur's life finally come together?