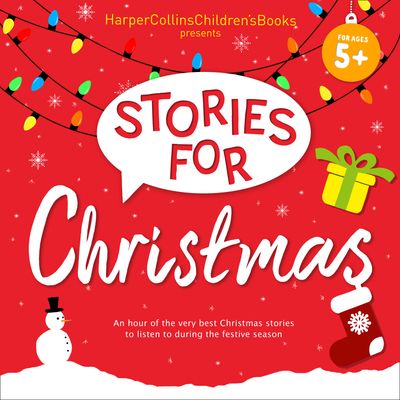 Stories for Christmas: Five Classic Children's Books including Mog's Christmas, Paddington and the Christmas Surprise and more!: Unabridged edition
By Compiled by HarperCollins, Written by Michael Bond, Judith Kerr, Michael Morpurgo, Emma Chichester Clark and Jill Barklem, Read by Paul Vaughan, Geraldine McEwan, Sam Hodges, Emilia Fox and Jon Moffatt
Five of the best-loved Christmas stories to get your little ones through the festive season.
Welcome to Christmas Stories for Children, for age 5+
Five of the best-loved children's Christmas books for your little ones to enjoy during the festive season including beloved classics such as Mog's Christmas, Paddington and the Christmas Surprise and more .
This audio download is a heritage rich collection showcasing some of the biggest characters in Children's literature we all know and love.
Compiled by HarperCollins Children's Books, featuring Michael Bond, Judith Kerr, Michael Morpurgo, Emma Chichester Clark and Jill Barklem.
Full of heartwarming listening for all the family whether you're in the car on your way to loved ones at Christmas, or snuggled up at home on Christmas Day, Stories for Children is a must have this Winter.
Playlist:
Paddington and the Christmas Surprise by Michael Bond, read by Paul Vaughan
Mog's Christmas by Judith Kerr, read by Geraldine McEwan and cast
The Best Christmas Present in the World by Michael Morpurgo, read by Sam Hodges
Melrose and Croc: Together at Christmas by Emma Chichester Clark, read by Emilia Fox
BRAMBLY HEDGE: Winter Story by Jill Barklem, read by Jon Moffatt
Copyright: PADDINGTON AND THE CHRISTMAS SURPRISE © 2008 HarperCollins Publishers (P) 2008 HarperCollins Publishers; MOG'S CHRISTMAS © 1976 Judith Kerr (P )2013 HarperCollins Publishers Limited; THE BEST CHRISTMAS PRESENT IN THE WORLD © 2010 HarperCollins Publishers (P) 2010 HarperCollins Publisher; MELROSE AND CROC: TOGETHER AT CHRISTMAS © 2005 Emma Chichester-Clark (P) 2013 HarperCollins Publishers Limited; BRAMBLY HEDGE: WINTER STORY © 1980 Jill Barklem (P) 2014 HarperCollins Publishers Limited