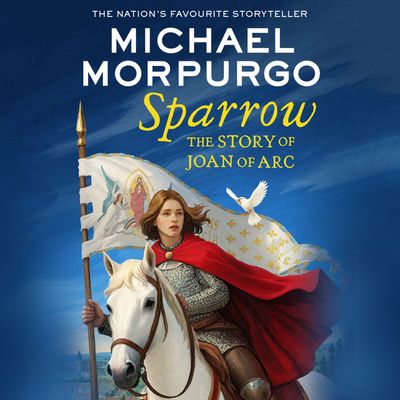 Sparrow: The Story of Joan of Arc: Unabridged edition
By Michael Morpurgo, Read by Amy Enticknap
Eloise has always loved Joan of Arc. Noble, honest and brave, she was everything Eloise wishes to be. And on a bright sunny day in Orleans, Eloise has a very special daydream…
A superb re-imagining of Joan of Arc by master storyteller and author of War Horse.
"There was only one creature on this earth who really knew Joan. He was a sparrow, just an ordinary sparrow…He was her best friend on this earth, maybe her only friend, too."
A young girl faces an impossible task – to save her beloved France from tyrants. To free her country, Joan will lose everyone she has ever loved. But she listens to her heart and believes in her calling.
Through patience, perseverance and unbreakable spirit, Joan of Arc leads armies to victory and finds the strength to face the cruellest of destinies.
"Praise for Michael Morpurgo:'Michael Morpurgo writes brilliantly about war and animals, conveying the big emotions without preaching." - The Guardian
"'Champagne quality over a wide range of subjects." - Daily Telegraph
"'There are few children's writers as compelling as Michael Morpurgo." - Daily Express
"'Morpurgo's gift is to make this long-ago world of danger and heartbreak accessible without ever patronising his young readers." - Sunday Mercury
"'Morpurgo, as always, is subtle and skillful, and incorporates social and moral issues into his writing without being self-righteous or detracting from the quality of the narrative" - Elizabeth Reilly - British Council
"'The former children's laureate has the happy knack of speaking to both child and adult readers." - The Guardian.