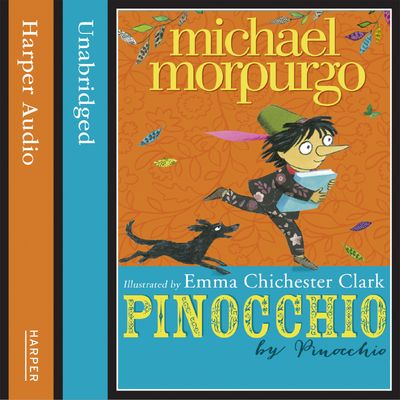 Pinocchio: Unabridged edition
By Michael Morpurgo, Read by Michael Morpurgo
The perfect gift for all ages, Pinocchio as you've never seen him before: telling his own story through the master storyteller and award-winning author of WAR HORSE.
"Now – there's no point in pretending here – I was, and still am deep down, a puppet. Everyone knows Pinocchio is a puppet. I reckon I must be just about the most famous puppet the world has ever known. But the truth is I'm not just a puppet, I'm more than just bits of wood and string. I'm me. So I thought it was about time that I, Pinocchio, told you my story…"
So begins this stunningly beautiful interpretation of the classic story. Michael Morpurgo channels Pinocchio's words to tell the famous puppet's story in his own inimitable, cheeky and always funny way.
PRAISE FOR PINOCCHIO: -
'This classic puppet story has tended to be a little, well, wooden in the telling, but Morpurgo has made it dance.' The Times -
'A charming read, even for those who think they already know the story of Pinocchio inside out.' Evening Echo -
"A beautiful reworking of the classic story.' EDP Weekend -
PRAISE FOR MICHAEL MORPURGO: -
"'As ever, Morpurgo's warmth and humanity suffuse a story of courage, love and hope." - Amanda Craig, The Times
"'Passionate and touching" - Julia Eccleshare
"Morpurgo is a virtuoso at conjuring vibrant stories that draw on historical events.' The Observer Review -
"'Champagne quality over a wide range of subjects." - The Telegraph