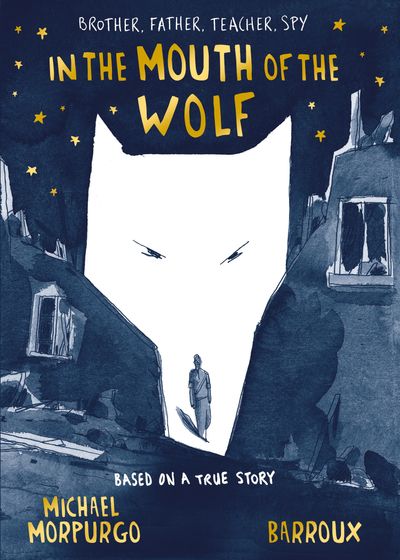 In the Mouth of the Wolf
By Michael Morpurgo, Illustrated by Barroux
A true story of two brothers and the war that changed everything.
Michael Morpurgo's wonderful storytelling and Barroux's stunning artwork combine to tell the true story of Michael's uncles against the epic backdrop of World War Two.
Francis and Pieter are brothers. As shadow of one war lingers, and the rumbles of another approach, the brothers argue. Francis is a fierce pacifist, while Pieter signs up to fight. What happens next will change the course of Francis's life forever … and throw him into the mouth of the wolf.
–-
Michael Morpurgo has written over one hundred books and won many awards. In 1976 Michael and his wife Clare started the charity Farms For City Children, which aims to relieve the poverty of experience of young children from inner city and urban areas. In 1999 they were awarded the MBE for their work in creating these farms and in 2006 Michael received an OBE. His novel War Horse has been adapted into a hugely successful and critically acclaimed West End play.
Michael is a tireless champion for children's books and was formerly the Children's Laureate.
Born in Paris, Barroux spent much of his childhood in North Africa. He later attended art school in France. He received widespread critical acclaim for Line of Fire, Diary of An Unknown Soldier (Phoenix Yard) and Alpha (Barrington Stoke). In 2015 Barroux won the first Parents, Babies, a Book competition for his work Chuut! which will be given to every baby in the north of France. His stunning book Where's the Elephant? (Egmont) has been longlisted for the Kate Greenway Medal 2016.