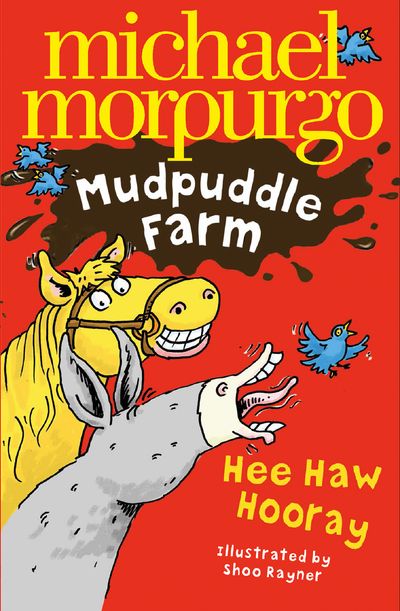 Mudpuddle Farm - Hee-Haw Hooray!
(Mudpuddle Farm)
By Michael Morpurgo
Join the fun on the farm!
A brand new Mudpuddle Farm book from award-winning author Michael Morpurgo, hilariously illustrated throughout by Shoo Rayner, and perfect for readers of 5 and up.
(This ebook is optimised for Kindle tablets and the Kindle App. It is not suitable for e-Ink kindle devices, such as the PaperWhite. We recommend you download a sample to your device before purchase if in doubt.)
Two charming stories for younger readers, featuring a loveable family of all sorts of animals, living behind the tumble-down barn on Mudpuddle Farm – where everything is about to change… in the most unexpected and hilarious ways!
Nowt to Worry About:
There's a storm in the air, and all the animals are worried. But old Farmer Rafferty doesn't realise anything is wrong. Can the animals warn him in time?
Tickety-Boo:
A funny new creature has arrived at Mudpuddle Farm – and the animals soon make friends. Problem is, the latest addition to the farm doesn't belong actually there! It looks like it's time to say a sad goodbye – although Albertine the Goose might just have a clever idea…
Praise for Michael Morpurgo: -
"'Michael Morpurgo writes brilliantly about war and animals, conveying the big emotions without preaching." - Guardian
"'Champagne quality over a wide range of subjects." - Daily Telegraph
"'There are few children's writers as compelling as Michael Morpurgo." - Daily Express
"'Morpurgo, as always, is subtle and skilful, and incorporates social and moral issues into his writing without being self-righteous or detracting from the quality of the narrative" - Elizabeth Reilly, British Council
"'The former children's laureate has the happy knack of speaking to both child and adult readers." - Guardian