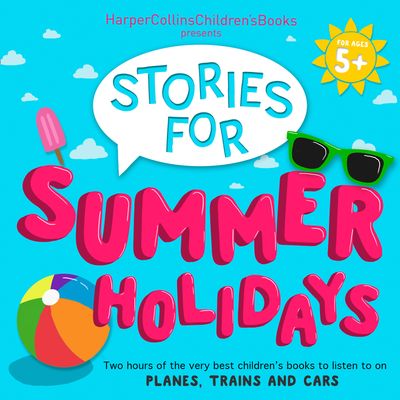 HarperCollins Children's Books Presents: Stories for Summer Holidays for age 5+: Two hours of fun to listen to on planes, trains and cars: Unabridged edition
By Compiled by HarperCollins Children's Books, Written by Jonathan Langley, Michael Bond, Michael Morpurgo, Ian Whybrow, Oliver Jeffers, Jenny Valentine, S. A. Wakefield and Jill Barklem, Read by Jim Broadbent, Victoria Wood, Jot Davies and Various
Twelve of the best-loved children's book stories to get your little ones through the longest journeys this summer.
Worried about how to keep your little ones occupied this Summer? . . . Worry no more with this compilation of twelve of the best-loved children's stories. Two hours of audio fun to keep your children entertained on even the longest journeys – keeping at bay the dreaded question, ARE WE THERE YET?
Featuring some of the biggest names in children's stories – Michael Morpurgo, Oliver Jeffers, Michael Bond and Jill Barklem – this collection has it all. Full of laughter, and tonnes of fun. A must-have for the Summer Holidays.
Playlist:
Jonathan Langley: NURSERY TALES (The Three Bears and Goldilocks) – read by Victoria Wood
Michael Bond: PADDINGTON: THE ORIGINAL STORY OF THE BEAR FROM PERU – read by Paul Vaughan
Michael Morpurgo: DOLPHIN BOY – read by Jot Davies
Jonathan Langley: NURSERY TALES (The Three Billy Goats Gruff) – read by Victoria Wood
Ian Whybrow: LITTLE WOLF AND SMELLYBREFF: WHAT'S THE TIME, LITTLE WOLF? – read by Griff Rhys Jones
Oliver Jeffers: THE INCREDIBLE BOOK EATING BOY – read by Jim Broadbent
Jonathan Langley: NURSERY TALES (Rumpelstiltskin) – read by Victoria Wood
Jenny Valentine: IGGY AND ME (And in my Suitcase I Put) – read by Charlotte Stevens
S. A. Wakefield: THE ADVENTURES OF BOTTERSNIKES AND GUMBLES (Running Down to the Beach) – read by Nicholas Osmond
Jill Barklem: BRAMBLY HEDGE: SUMMER STORY – read by John Moffatt
Jonathan Langley: NURSERY TALES (Little Red Riding Hood) – read by Victoria Wood
Michael Bond: PADDINGTON AND THE MARMALADE MAZE – read by Jim Broadbent
Copyright: PADDINGTON AND THE MARMALADE MAZE © 2009 Michael Bond (P) 2009 HarperCollins Publishers; DOLPHIN BOY © 2010 Michael Morpurgo (P) 2010 HarperCollins Publishers; IGGY AND ME (AND IN MY SUITCASE I PUT) © 2009 Jenny Valentine (P)2011 HarperCollins Publishers Limited; BRAMBLY HEDGE: SUMMER STORY © 1980 Jill Barklem (P) 2014 HarperCollins Publishers Limited; NURSERY TALES (Rumpelstiltskin, The Three Bears and Goldilocks, Little Red Riding Hood and The Three Billy Goats Gruff) © 2011 Jonathan Langley (P) 2011 HarperCollins Publishers Limited; THE INCREDIBLE BOOK EATING BOY © 2006 Oliver Jeffers (P) 2014 HarperCollins Publishers Limited; PADDINGTON: THE ORIGINAL STORY OF THE BEAR FROM PERU © 2007 HarperCollins Publishers Limited (P) 2010 HarperCollins Publishers Limited; THE ADVENTURES OF BOTTERSNIKES AND GUMBLES (Running Down to the Beach) © 2016 S. A. Wakefield (P) 2016 HarperCollins Publishers Limited; LITTLE WOLF AND SMELLYBREFF: WHAT'S THE TIME, LITTLE WOLF? © 1980 Ian Whybrow (P) 2013 HarperCollins Publishers Limited