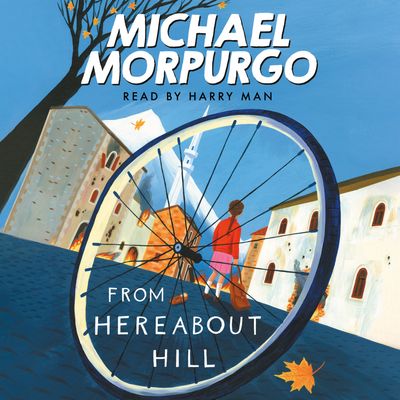 From Hereabout Hill: Unabridged edition
By Michael Morpurgo, Read by Harry Man
A thought-provoking and rich collection of short stories, many of which reflect the author's love of myths and legends, his close observations of family life, and his skills as a unique storyteller.
A beautiful collection of short stories written by one of the best loved children's authors of all time.
Giant's Necklace
Cherry has a necklace made out of pink shells and fishing line, but she still needs some more shells to complete it. So, with permission of her mother and father, she stays on the beach after the rest of the family have left to look for more shells. But the tide is coming in fast, and she made a promise with her mother to be back before it gets dark, so she starts to climb back up the cliff towards the cottage in Eagle's Nest where they are staying. But there is a giant storm wave coming towards her, which sweeps her off her feet and leaves her elsewhere…
Ancient Time
In Ancient Time breathes an intense life into the friendship between Jesus of Nazareth and a young follower who travels from Glastonbury to Palestine
Silver Ghost
'There are very few grand houses where I live, but I did hear of one. So I went to have a look.
The Parkland was rolling and gracious, the driveway imposing, but at first glance I could see no house. Then I discovered there was no house, not any more. All I found was a plaque on a wall telling me the house had been destroyed by fire. No one knows how or why the fire started. Until now.'
Muck and Magic
A collection of stories that explore a wide range of rural themes and settings, from the sinister countryside to a ruined Lebanese garden.