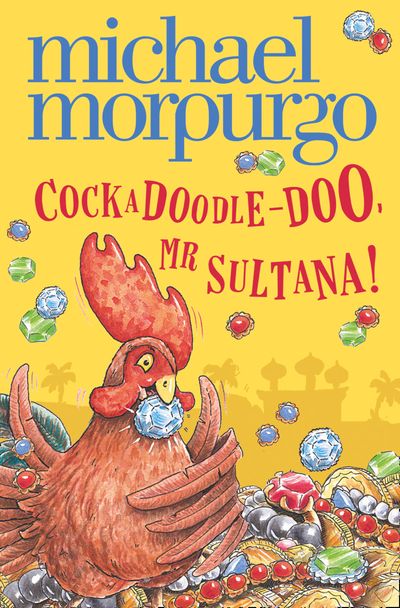 Cockadoodle-Doo, Mr Sultana!
By Michael Morpurgo, Illustrated by Shoo Rayner
A rich and greedy sultan meets his match in a VERY cheeky little red rooster…
Hilariously wacky tale by bestselling author of War Horse.
The rich and greedy sultan loves his jewels more than anything, so when he loses a diamond button he is furious!
Especially as a naughty little red rooster seems determined to keep it…
A marvellously funny tale by master storyteller, Michael Morpurgo.
"Praise for Michael Morpurgo:'Michael Morpurgo writes brilliantly about war and animals, conveying the big emotions without preaching." - The Guardian
"'Champagne quality over a wide range of subjects." - Daily Telegraph
"'There are few children's writers as compelling as Michael Morpurgo." - Daily Express
"'Morpurgo's gift is to make this long-ago world of danger and heartbreak accessible without ever patronising his young readers." - Sunday Mercury
"'Morpurgo, as always, is subtle and skillful, and incorporates social and moral issues into his writing without being self-righteous or detracting from the quality of the narrative" - Elizabeth Reilly - British Council
"'The former children's laureate has the happy knack of speaking to both child and adult readers." - The Guardian.