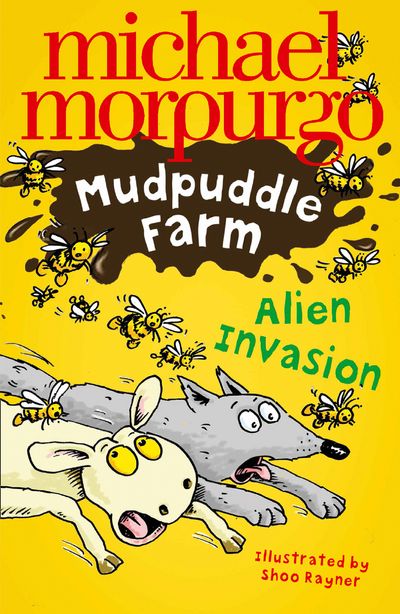 Mudpuddle Farm - Alien Invasion!
(Mudpuddle Farm)
By Michael Morpurgo, Illustrated by Shoo Rayner
Join the fun on the farm!
A charming, funny story from award-winning author Michael Morpurgo, hilariously illustrated throughout by Shoo Rayner, and perfect for readers of 5 and up.
(This ebook is optimised for Kindle tablets and the Kindle App. It is not suitable for e-Ink kindle devices, such as the PaperWhite. We recommend you download a sample to your device before purchase if in doubt.)
Two funny farmyard stories for younger readers.
Martians at Mudpuddle Farm:
Have Martians landed on Mudpuddle Farm? Farmer Rafferty seems to think so. Now it's up to Albertine, Goose Queen, to work it out. Luckily she's the cleverest goose in the whole world, so if anyone knows what to do, she will…
Mum's the Word:
Something strange is going on at Mudpuddle Farm. Egbert the goat is not himself at all. Instead of grumbling, he's singing and dancing! And he's even greedier than usual…
Praise for Michael Morpurgo: -
"'Michael Morpurgo writes brilliantly about war and animals, conveying the big emotions without preaching." - Guardian
"'Champagne quality over a wide range of subjects." - Daily Telegraph
"'There are few children's writers as compelling as Michael Morpurgo." - Daily Express
"'Morpurgo, as always, is subtle and skilful, and incorporates social and moral issues into his writing without being self-righteous or detracting from the quality of the narrative" - Elizabeth Reilly, British Council
"'The former children's laureate has the happy knack of speaking to both child and adult readers." - Guardian