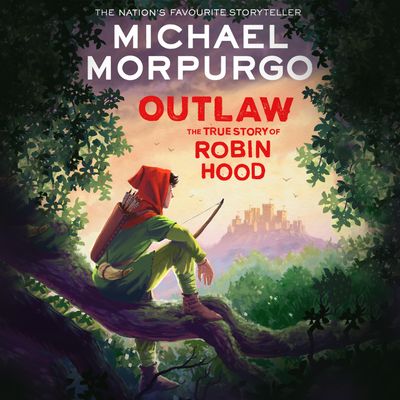 Outlaw: The story of Robin Hood: Unabridged edition
By Michael Morpurgo, Read by Joe Bor
After a fierce storm, a boy discovers a human skull, buried beneath the roots of an ancient tree. A skull with a legendary story…
Vivid re-imagining of the legendary hero Robin Hood by thebestselling author of War Horse.
"Tell the sheriff, tell Sir Guy of Gisbourne, tell everyone in Nottingham, that the Outlaws rule here in Sherwood, that we rule in the king's name… I am Robin Hood."
Homeless and lost in a dark, strange forest, young Robin is rescued by a motley crew of misfits. He yearns to avenge his father and seek justice against cruel oppressors, to finally defeat the Sheriff of Nottingham, once and for all.
And through his friends, Robin Hood finds the courage to become a legendary hero.
"Praise for Michael Morpurgo:'Michael Morpurgo writes brilliantly about war and animals, conveying the big emotions without preaching." - The Guardian
"'Champagne quality over a wide range of subjects." - Daily Telegraph
"'There are few children's writers as compelling as Michael Morpurgo." - Daily Express
"'Morpurgo's gift is to make this long-ago world of danger and heartbreak accessible without ever patronising his young readers." - Sunday Mercury
"'Morpurgo, as always, is subtle and skillful, and incorporates social and moral issues into his writing without being self-righteous or detracting from the quality of the narrative" - Elizabeth Reilly - British Council
"'The former children's laureate has the happy knack of speaking to both child and adult readers." - The Guardian.