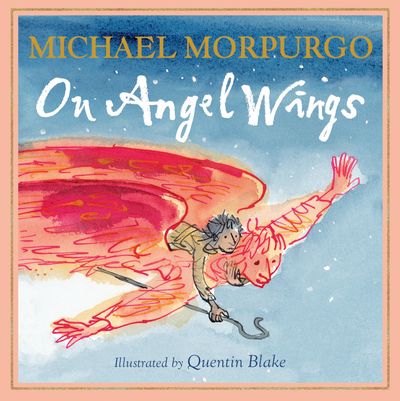 On Angel Wings
By Michael Morpurgo, Illustrated by Quentin Blake
On Angel Wings is a beautifully poignant and atmospheric Christmas story from War Horse author Michael Morpurgo and Roald Dahl's beloved illustrator, Quentin Blake.
One cold Christmas night, a shepherd recounts the magical story of how he came to be the first visitor to the newborn Christ child – ahead of the other shepherds, and in complete secret.
A deftly wrought re-working of the nativity story from former Children's Laureate and award-winning author of Kensuke's Kingdom and Private Peaceful, Michael Morpurgo. Michael's tale is rich in human detail and Quentin Blake's watercolour illustrations ooze energy in this delightful picture book that will enchant children of 5 and up. On Angel Wings is destined to become a festive family favourite.
Michael Morpurgo is the master storyteller of Kensuke's Kingdom, An Eagle in the Snow, Listen to the Moon, Shadow, and An Elephant in the Garden. Michael has written more than a hundred books and won the Whitbread Award, the Smarties Award, the Circle of Gold Award, the Children's Book Award and has been short-listed for the Carnegie Medal four times.
Quentin Blake is the world renowned illustrator of Roald Dahl's books including The BFG, Matilda, The Witches, and countless others. He is bringing his unique style to the forthcoming Beatrix Potter story The Tale of Kitty in Boots.