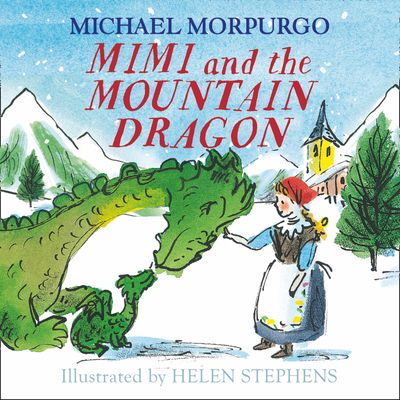 Mimi and the Mountain Dragon
By Michael Morpurgo, Illustrated by Helen Stephens
As soon as the bells stop ringing, I¹m going to carry you home to your mother, back up to the Mountain Dragon's castle  …
Mimi and the Mountain Dragon is a beautifully poignant and atmospheric Christmas story from War Horse author Michael Morpurgo and illustrated by Helen Stephens, the talent behind How to Hide a Lion from Grandma.
In her castle lair high in the mountains of Switzerland, lives a terrible dragon. In the village below, lives a little girl called Mimi. When she finds a baby dragon in the woodshed, she makes a brave decision that will bring joy and peace to the village for ever.
A heart-warming Christmas adventure, that all the family can share. The perfect combination of magic, adventure and Christmas cheer – and makes an ideal festive stocking filler for kids aged 5 and up. Look out for Michael's other Christmas classics The Goose is Getting Fat, The Best of Times, The Best Christmas Present in the World and On Angel Wings.
Michael Morpurgo is the master storyteller of Kensuke's Kingdom, An Eagle in the Snow, Listen to the Moon, Shadow, and An Elephant in the Garden. Michael has written more than a hundred books and won the Whitbread Award, the Smarties Award, the Circle of Gold Award, the Children's Book Award and has been short-listed for the Carnegie Medal four times.
Helen Stephens is the award winning illustrator of How to Hide a Lion, Fleabag and The Night Iceberg (Alison Green Books). Known for her line work and bright and instantly recognisable illustrations, Helen has both collaborated with authors (Sophie Hannah, Roger McGough and Michael Morpurgo) and written and illustrated her own picture books including The Big Adventures of the Smalls and the Betsey series, both with Egmont. Helen lives in Northumberland, by the sea, with her family.