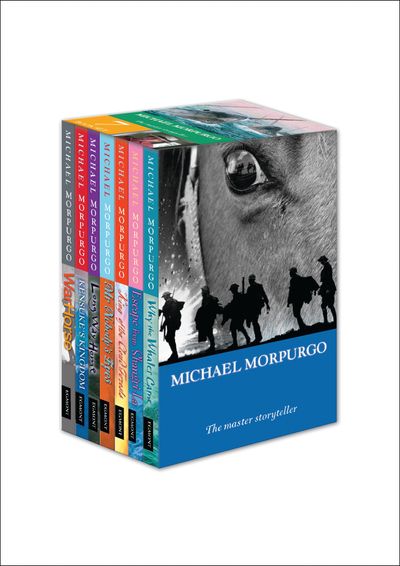 DEAN Morpurgo 7-Copy Slipcase
By Michael Morpurgo
Seven epic and moving books for children from bestselling author Michael Morpurgo, the master storyteller of our time.
This beautiful boxset includes such well-loved classics as War Horse and Kensuke's Kingdom. It is a showcase of some of Morpurgo's finest children's books, introducing young readers to the conflict of World War One and World War Two, and engaging with the themes of family and man's relationship with the animal kingdom. A great collection for readers aged 8 and up. Perfect reading for everyone who loved Private Peaceful, The Eagle in the Snow, and Shadow.
The collection includes:
War Horse – One horse has the seen the best and the worst of humanity. The power of war and the beauty of peace. This is his story.
Kensuke's Kingdom – Washed up on an island in the Pacific, Michael struggles to survive on his own. With no food and no water, he curls up to die. When he wakes, there is a plate beside him of fish, of fruit, and a bowl of fresh water. He is not alone …
Long Way Home – a heartfelt tale of an orphaned boy in search of family.
Mr Nobody's Eyes – Harry is in trouble at school, and he doesn't like his stepfather or the new baby. Then he befriends Ocky, a chimpanzee from the circus. Ocky's owner won't mind if Harry borrows her for a bit, will he?
King of the Cloud Forests – Escaping from China as the Japanese invade, Ashley and Uncle Sung embark on a perilous journey across the Himalayas and have a strange encounter.
Escape from Shangri-La – a beautifully crafted war story featuring Cessie who is determined to help his long-lost grandfather escape from a nursing home and uncover the truth about his past.
Why the Whales Came – Set against the backdrop of the First World War, Gracie and her friend Daniel have always been warned to stay away from the Birdman and his side of the island, but he could he actually be a friend?
Michael Morpurgo has written more than one hundred books and won the Whitbread Award, the Smarties Award, the Circle of Gold Award, the Children's Book Award and has been short-listed for the Carnegie Medal four times.