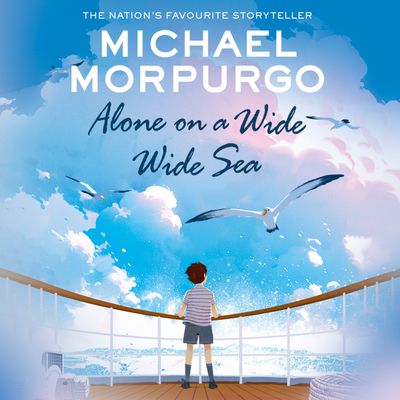 Alone on a Wide Wide Sea: Unabridged edition
By Michael Morpurgo, Read by Emilia Fox and Tim Pigott-Smith
How far would you go to find yourself? The lyrical, life-affirming novel from the bestselling author of Private Peaceful.
There were dozens of us on the ship, all ages, boys and girls, and we were all up on deck for the leaving of Liverpool, gulls wheeling and crying over our heads, calling good-bye, I thought they were waving good-bye. None of us spoke. It was a grey day with drizzle in the air, the great sad cranes bowing to the ship from the docks as we steamed past. That is all I remember of England…
When orphaned Arthur Hobhouse is shipped to Australia after WWII he loses his sister, his country and everything he knows. The coming years will test him to his limits, as he endures mistreatment, neglect and forced labour in the Australian outback. But Arthur is also saved, again and again, by his love of the sea. And when he meets a nurse whose father owns a boat-building business, all the pieces of his broken life come together.
Now, at the end of his life, Arthur has built a special boat for his daughter Allie, whose love of the sea is as strong and as vital as her father's. Now Allie has a boat that will take her to England solo, across the world's roughest seas, in search of her father's long-lost sister… Will the threads of Arthur's life finally come together?