Farms for City Children
Michael and Clare Morpurgo founded Farms for City Children at Nethercott House in Devon in 1976.
The charity offers urban children from all over the country a unique opportunity to live and work together for a week at a time on a real farm in the heart of the countryside. It is an intense, 'learning through doing' experience of a different life – for children who may not know where their food comes from and have limited opportunities to explore the outside world.
Due to the outbreak of COVID-19, children have, unfortunately, not been able to visit the farms this spring but it is important that inner city children still have the chance to spend time in the countryside once circumstances change for the better.
Click the link below to learn how you can help Farms For City Children:
A Note From Michael and Clare Morpurgo
44 years ago, on January 26th 1976, a hundred thousand city children ago, the first children walked up the drive to Nethercott House to spend a week of their school life in the countryside, living and working with their teachers down on the farm. There were 30 of them, and they came from Chivenor Primary School in Birmingham.

It was the beginning of a story, for us the best story we've ever written. Stories change lives, and so does education. This was, and is, a coming together of the best of both.
Over the years, many other people have loved the farms and have enjoyed seeing the new groups of children arrive from the city.
This is how our Vice President, Sir Quentin Blake, sees the children who come to the farms: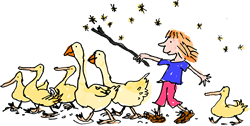 Sean Rafferty, towards the end of his life the first vegetable gardener at Nethercott, a fine poet, who worked alongside the children, and saw them every day out on the farm, once wrote this about them.

'Children come to the farms in winter, in summer, in all seasons. Calves are born, foxes kill the chickens, sheep are dipped and shorn; and all this is not something which they watch. They feed the hens, hiss at the geese, walk back from the milking parlour in the evening up a dark lane without street lamps, hear owls hoot in the night, and are afraid.

Now more than ever it matters that children from the inner-cities can experience life in the country.

This is a generation which will hear repeatedly of ecological disaster, will be told that the earth itself is threatened. For some of them the earth will not be a globe in the classroom or a map on the wall, but a Devon farm where they scuffled beech leaves along the drive and broke the ice on the puddles in the lane.

When they are told of polluted rivers, it will be one river, which has had its share of pollution, where they first saw a trout jumping and a wading heron, and plastic bags caught in the branches to mark the level the last great flood.

Last spring, two children went down to the river at dusk to watch for badgers. They did see a badger, and they also saw two young otters at play, something many people born and bred in the country have never seen.

It was as though Nature herself were choosing her champions.'


We are now a family of three farms, Nethercott here in Devon, Treginnis near St David's in Wales, and Wick Court on the river Severn in Gloucestershire. Each is different, but the idea is the same. The children and teachers stay and work alongside real farmers, and live to the full the life of the countryside. All through the seasons they come, some children several times, many schools every year for twenty years or more. The farm becomes their place, a precious place, and a precious time they will remember all their lives.

Ted Hughes, Poet Laureate, a great champion of childhood and nature, and FFCC's founding President, wrote this when children first came to Wick Court over 20 years ago:

'Wick with its five wizard hats
Wished in ghosts and prayed in bats
Till out of the dried up well of thirst
A fountain of new children burst
Then all Wick's memories trooped from sleep
Goats, ducks, chickens, cows, pigs, sheep.'

And here's Nethercott, as seen by Ronald Searle:






And here Dylan Thomas remembers a country childhood in Wales. These two lines in his poem 'Fern Hill', are carved in Preseli stone at Treginnis:

'…..And I was green and carefree, famous among the barns
About the happy yard and singing as the farm was home,…'


In 2001, Foot and Mouth, another virus, closed us down, closed farms down everywhere. Children could not come for nearly 9 months. We wondered if the charity could survive, if we would ever be able to open again. But our kind and generous supporters and our wonderful schools came to our rescue. The funds came, and the schools came, and we were able to welcome the children once more.

And now, in 2020, this. Again we do not know how long it might be until the children can return. We do know that we at FFCC, every one of us, staff and farmers and trustees, are working as hard as we possibly can to keep things going, to raise the funds we will need, so that we can be there for the children when they are able to come again. With your help we can and must make that happen. How good would that be!

We all share the same dream at FFCC, to see the first children arriving this summer or autumn or winter, with their bags and their wellies, no longer cooped up, but freed like birds from a cage, to enjoy the world about them, their world, to breathe in its beauty, to feel part of it, and to look after it.


Clare and Michael Morpurgo.

Founders of Farms for City Children. 
To find out more about Farms for City Children or make a donation, click the button below: 
A Day in the Life of a Child at Nethercott Farm:
Rachel Newbury visited Nethercott Farm in the 1970s. She was a pupil at Adamsrill in Sydenham, south east London. Whilst staying at Nethercott, she kept a diary detailing her experiences, and you can see her entries above.
British chef, April Bloomfield, remembers her time at Nethercott Farm:
The world-renowned chef April Bloomfield visited Nethercott with her primary school in the 1980's. She remembers it very clearly and how the time there inspired her. April now owns a famous restaurant in New York called The Breslin.
'I was quite a worried child growing up and had never been away from my family until I had the opportunity to go to Nethercott Farm. I attended Sir Theodore Pritchett school in Druid's Heath, Birmingham. David Hicks was my teacher and I was 12 years old. I was anxious as I got on the bus and waved goodbye to my mom through the window.
Arriving at the farm was exciting! We tumbled off the bus and straight away everyone was assigned a room. Boys in one section and girls in another. We unpacked all of our belongings and received a printed schedule for the upcoming week. Lots of exciting new things to see and do! The 7AM breakfast piqued my interest for sure! The farm schedule seemed different from the normal school schedule, it felt more grown up in a way. Food was a big part of being at the farm. Somehow the food tasted better.
We got to do some amazing things at the farm . We were taught where our food comes from .We got to muck out the horses and see the cows being milked daily. We learned about how cows process the grass that turns into milk. We got to learn about mastitis in cows and what to look for. The baby cows were the favourite !
Clare and Michael have a deep connection to the countryside and it showed. They taught us how to tend and care for not only the animals and food that came from Nethercott Farm but also how to respect things outside the farm like other people's property, wildflowers, making sure we close gates after we walked through so animals stay safe and secure.  These things I've written all might seem like common sense, but to a twelve year old growing up in a city, they are new and enlightening. Clare and Micheal teach in a way that sticks . It's almost as though you are learning subliminally in the most subtle and loving way. They are teaching children from inner cities without the stress of a classroom. The children that get to go to Nethercott Farm learn life skills and responsibility that you just can't get in regular school and that's why this farm and the things that Clare and Michael teach are so valuable. Little did I know that Clare, Michael and the team at the farm had planted a tiny seed in my 12 year old head. A seed that has been growing inside of me for 34 years that's only just starting to sprout  and I'm very much looking forward to seeing it grow.'
A Teacher Remembers Nethercott Farm:
Former teacher Adam Hawkins remembers his time at Farms for City Children…
One autumn more than 40 years ago, I was 'persuaded' as a young teacher in Inner London, to spend a few days with various other teachers at a farm in Devon cleaning up after cows, mucking out stalls, feeding animals, collecting eggs and taking part in a variety of farm jobs. The organisation, Farms for City Children, founded by Michael [now Sir Michael] Morpurgo and his wife Clare, is a charity that offers children the opportunity to live and work together for a week at a time, on a real farm, in the heart of the countryside. At the end of my few days experience I was not totally convinced about bringing children for this structured rather regimented week. How wrong I was! I'm not sure that Michael and Clare were totally convinced about me either!
However the many weeks I spent with my pupils at Nethercott House over the following years have been highlights of my long career in teaching. For our children from Inner South London this was a totally different experience, a totally different world, working hard cooperating together on a wide variety of farming tasks with a clear routine but having great fun. Getting dirty, splashing in puddles, laughing together. There was so much to learn – finding out why cows give milk, how much a piglet weighs, what happens to all the muck, why do hens lay eggs, how to groom a horse correctly, how to sow seeds, which crops can be successfully grown and so much more! The weekly visit to Hatherleigh market was always a very interesting experience and led to many comments, queries and questions from our children.
Winter was always my favourite time to take children to the farm, the crisp frosty walk down to the dairy to see the cows milked before returning to a lovely hearty breakfast. Returning to the house after the evening tasks to hear Michael reading from one of his stories in front of a roaring fire. Our children's wonderful descriptive, narrative and creative writing during and following the week was only possible because of the real life experiences on which they were based.
The hardest part for our children was always saying goodbye at the end of the week but their memories of the week working on the farm remain with them forever. Former pupils who are now grown with their own children still contact me with memories of their wonderful week on the farm.
Fundraising for Farms for City Children
Ali Mawle is fundraising for Farms for City Children!
For the first time ever, she completed a 10km – all in aid of Farms for City Children. Head over to her JustGiving page now to read her reasons for supporting this fantastic charity. There's still time to donate to help keep Farms for City Children providing children with life-changing experiences.
'Where My Wellies Take Me' reading
Clare and Michael Morpurgo read their delightful, memorable book 'Where My Wellies Take Me' together to raise awareness of Farms for City Children. Watch their reading here!
Michael talks FFCC with Virtually King's Week
Exeter Cathedral School sings Hallelujah for FFCC
'Journey to the Sea' is a short film by Simon Ward about Bridgetown Farm, which partners with Farms for City Children.
Watch it now to find out more about nature and farming working side by side:
Five facts about Nethercott's black pigs
The Nethercott large black pigs are a 'rare breed' (only about 350 registered sows in Britain).
They like to be outdoors and spend as much of the year as possible out in paddocks.
Children at Nethercott help look after the pigs every day, weighing out their feed rations and feeding them before breakfast each morning.
The Nethercott 'sows' (female pigs) have litters of piglets at any time of year (approx. 6-12 piglets in a litter). The process of giving birth to piglets is called 'farrowing'.
Male pigs are called 'boars', adult females – 'sows', young females – 'gilts', and baby pigs are 'piglets or 'weaners'.
A Film of the River Okement
The beautiful, peaceful River Okement runs close to Nethercott. There is nothing more calming than standing by its bank watching for a glimpse of a trout, or event an otter or a kingfisher. The children will walk past it on their Sunday afternoon walk after lunch.